Watch Video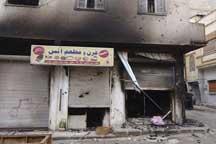 Play Video
Conflicts between the government and opposition activists are still severe as ever. The UN says the fights have forced at least 30 thousand people to flee the country, and caused more than 7,500 deaths. But the UN and the international community are not giving up efforts to bring about an end.
Clashes between the Syrian army and opposition fighters - Opposition activists are reporting shelling by tanks and artillery in areas around Idlib in the north and also around Homs, the city that government forces claimed to have already pacified. Those who make it across the borders to safety tell chilling stories of their treatment by security forces.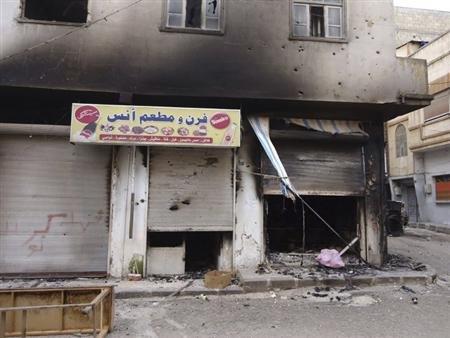 Damaged building is seen at Karm al-Zeitoun near Homs March 13, 2012.
REUTERS/Handout
Abdullatif Syrian refugee, said, "After I was shot, they took me next to a burning car and hit me on the head. Then they burned me to test whether or not I was dead. I didn't make a sound because if they knew I was alive they would have killed me."
The United Nations says at least 30,000 Syrians have fled the country since the conflict began and at least 200,000 are internally displaced.
The UN special envoy to Syria, Kofi Annan, met with President Assad over the weekend and anti-government activists in Turkey on Tuesday. He has so far failed to secure a ceasefire agreement by either side. After meeting activists Mr Annan voiced his concern about the fresh offensive as well of growing reports of civilian mass killings by pro-government militias.
Kofi Annan, US special envoy to Syria, said, "I'm following very, very closely developments in Syria, and there are grave and appalling reports of atrocities and abuses. The killing of civilians must end now".
Turkey's prime minister gave his full support to international efforts to end the fighting being spearheaded by Mr Annan.
Tayyip Erdogan, Turkish Prime Minister, said, "We have told UN Envoy Kofi Annan that we fully support his mission. We have also told him that the international community must work together to ensure that violence in Syria must immediately come to an end, humanitarian aid is delivered to people of Syria, the Syrian army should withdraw from the cities and the conditions to pave way for a political transition are maintained."
China's special envoy for Syria also met with Arab League members in Cairo on Tuesday to discuss a political solution to the conflict.
Chang Ching, Chinese special envoy to Syria, said, "We exchanged viewpoints, and allow us to admit that there is agreement between China and all Arab countries to solve the Syrian matter politically".
Syria's president has portrayed the fighting as a crime wave by terrorist gangs, while opposition groups claim that civilians are being targeted by the military and the president must leave power as part of any cease-fire or peace proposal.
The UN says the fighting has now claimed more than 7500 lives. Human Rights Watch warned on Tuesday that many refugees are being killed or injured by landmines being laid by the Syrian Army along the Turkish and Lebanese borders.
The conflict is already the most violent of what has been called the Arab Spring over the past year. And with most Sunni Muslims siding with the opposition and Alawite Muslims siding with the government it is increasingly taken on the appearance of a sectarian civil war.
Editor:Zhang Dan |Source: CNTV.CN