Watch Video
Play Video
Robert King, the US special envoy for human rights in the DPRK, is set to discuss food aid details with the UN's World Food Program in Rome on Wednesday.
The US offer involves 240, 000 metric tons of food, to be delivered in monthly shipments. The food aid program is in exchange for a moratorium on long-range missile and nuclear tests, as well as the suspension of nuclear work at the Yongbyon reactor.
The deal also opens the way for UN nuclear monitors to inspect DPRK's nuclear program. Earlier on Monday, DPRK Vice Foreign Minister Ri Yong Ho confirmed that International Atomic Energy Agency officials would resume inspections "at an early date".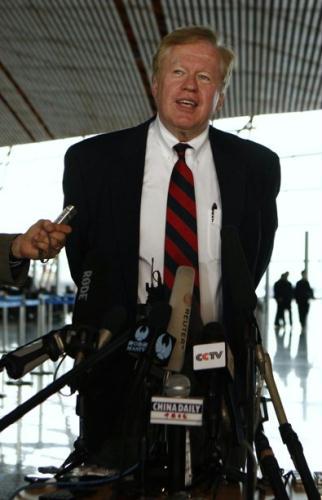 FILE PHOTO: Robert King, U.S. State Department's
special envoy for human rights in Democratic Republic
of Korea (DPRK), speaks to the media at Beijing
Capital International Airport March 8, 2012.
Representatives from the U.S. and the DPRK continued
their meeting on Thursday to discuss the details of
a food aid agreement, Xinhua News Agency reported.
Editor:Zhang Dan |Source: CNTV.CN