Watch Video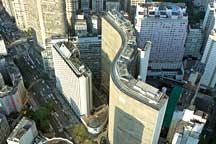 Play Video
In the world rankings of football Brazil excels, but this country is now showing it most definitely has game as it moves up the economic league table.
The numbers of people filling the shopping streets in downtown Rio reflect the country's economic healthiness. The strength of the country lies in its buoyant self-sustaining internal market. More people are spending than ever before buying items once considered luxuries due to increased salaries or accessible credit plans.
This revenue, which should increase with exploration of the much talked about deep sea oil reserves, means the country can be self sufficient whilst also gaining income as a provider. Brazil also maintains a healthy trade in exporting soya, coffee and sugar, particularly to China. According to economist Gilberto Braga, if China keeps growing then so will Brazil.
Professor Gilberto Braga, IBMEC, said, "Today the commercial relationship with China is very important for the Brazilian economy because China always says it's going to grow 7.5% and grows 8 to 8.5%. If this continues, then Brazil should maintain the position as the sixth largest economy."
But like these tightrope slackline walkers on Ipanema beach Brazil's economy is a constant balancing act. Worried about over or under consumer spending, the government put in various measures to de-stimulate and then kick start the economy in the last twelve months, largely in response to the constant worry of high inflation.
The result was that the GDP was almost half of what was expected in 2011. Then is concern that the real is over-valued. Brazil' and Central bank recently cut interest rates, plus other protectionist measures.
Overall the he aim for Brazil is a stable sustainable economy. But it still has a long way to go. Professor Gilberto Braga said, "The question of distribution of wealth is a serious subject in Brazil, the gap between very rich and very poor is larger than in the majority of other developing countries. These differences are being corrected but very slowly. Brazil is a poor country but a country that is growing."
Related stories
Editor:Zhang Dan |Source: CNTV.CN