Watch Video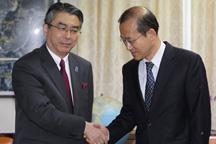 Play Video
South Korea's nuclear envoy Lim Sung Nam has held talks with his Japanese counterpart in Seoul, ahead of a nuclear security summit scheduled for early next week.
During their meeting, Lim and Japanese envoy Shinsuke Sugiyama discussed the DPRK's nuclear program and Pyongyang's recent announcement that it will launch a satellite on a long-range rocket in April.
South Korea's Chief Nuclear Envoy Lim Sung-nam (R) and his Japanese counterpart
Shinsuke Sugiyama pose before their meeting at Lim's office at the foreign ministry
in Seoul March 23, 2012.
Although the DPRK isn't officially on the agenda of next week's summit, its rocket launch will be a focus of world leaders when they gather in Seoul. The coming summit is the largest of its kind ever held in South Korea and the largest summit on peace in the world. It's also another collective action to guard against nuclear terrorism following the Washington Nuclear Security Summit in 2010.
Editor:Bai Yang |Source: CNTV.CN