Watch Video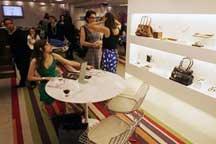 Play Video
Brazil ex-President Lula da Silva, who came from a humble family himself, was credited with lifting 21 million Brazilians out of poverty. Several years on, nearly 40 million Brazilians across the country have become part of a new middle class. But who makes up this new middle class in Latin America's largest country and can this growth continue?
This is the typical view of the geography here in Rio de Janeiro, the central is richer areas line the valley leading out the sea and the poorer areas or favela communities goes side on the mountains. But these boundaries are now merging with more people in middle class living in these favela communities.
Economist Marcelo Neri, who has been monitoring this new C class for several years, says the conditions which it has grown make Brazil distinctive from the other BRICS.
Marcelo Neri, economist, Getulio Vargas Foundation, said, "If you ask Brazilians about their lives, if you take a picture of their how they spending, how much money they are earning, you see quite a lot of improvement and I think this is another different between Brazil and the other BRICS, here people are doing better than the economy."
Inequality has been falling in Brazil since the 1960s and its in areas like this favela, Santa Marta, which is now on the 24 hour –UPP.
Maria Salete Martins Duarte works as a tour guide, in a salon and is the owner of this kiosk selling home-made food from the North East of Brazil. Her combined salary or around 2000 reais a month or 1100 dollars qualifies her as 'lower middle class'.
Maria Salete Martins Duarte said, "People have washing machines, micro-waves, all these elec-domestic goods now. Things have become much easier that you have the opportunity to buy things in instalments."
However husband Jose Carlos worries this could have repercussions. Jose Carlos said, "People have easy access to credit. What happens is a lot of times people buy things like fridge, washing machine and then when they go to pay they are not able to."
By 2014 an estimated 118 million Brazilians will be in the class C bracket and many more in classes AB. The future definitely looks bright for Brazil.
Editor:Zhang Dan |Source: CNTV.CN