Watch Video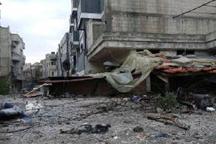 Play Video
April 10th, the scheduled beginning of a ceasefire in Syria set by UN-Arab League envoy Kofi Annan, and what should have marked a turning point to end the year-long crisis in the country. Against all hopes of the international community, the agreement now appears on the verge of collapse.
Under the Annan plan, Syrian troops were to pull out of conflict-ridden cities by Tuesday morning.
On Monday, however, Syrian Foreign Ministry spokhesman Jihad Makdissi reiterated preconditions for a troop pullback. He demanded written guarantees that the Syrian oppopsition will surrender weapons. This has already been rejected by Syria's main rebel group, the Free Syrian Army.
The Syrian Foreign Ministry also demanded that Qatar, Sapudi Arabia and Turkey will stop arming Syrian rebels.
Editor:Zhang Rui |Source: CNTV.CN