Watch Video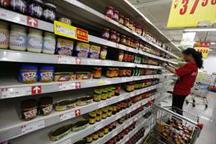 Play Video
China's inflation rate rebounded sharply in March to 3.6 percent, driven by rising food prices. The data surprised investors who had bet on cooling price pressures to give the central bank more room to ease monetary policy.
Figures released by the National Bureau of Statistics show that the Consumer Price Index, a main gauge of inflation, accelerated to 3.6 percent year-on-year in March, from 3.2 percent in February.
Analysts believe the unexpected inflation spike in March was caused by surging food prices, which were nudged up mainly by cold weather that swept across northern provinces of the country.
Breaking down the numbers, food prices rose 7.5 percent year-on-year last month, while non-food prices surged only 1.8 percent in March. Analysts believe, however, that quickening inflation in March is a short-term rebound, with the price of pork falling every week in March and shedding 10 percent in the past two months.
Producer Price Index, a barometer of industrial output prices, fell 0.3 percent in March year-on-year, compared with market expectations for a 0.2 percent fall.
That also gives China's central bank ample scope to unwind some of its strident tightening between 2010 and 2011, when it raised interest rates five times.
With price pressures in the world's second biggest economy expected to stay restrained for the rest of the year analysts say China is on pace to meet its 4 percent inflation target for 2012.
Editor:Zhang Rui |Source: CNTV.CN