Watch Video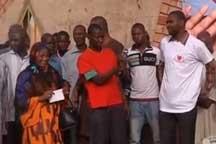 Play Video
As rebels have laid claim to Northern Mali, there is growing concern about the humanitarian and security situation for civilians who remain there. Hundreds have already fled the Taureg Rebellion, while thousands more have stayed behind, stranded. In an effort to appeal on their behalf, Northern Malians who are living in the capital Bamako, met on Sunday to raise money for their loved ones, while calling for regional intervention. CCTV's Susan Mwongeli reports.
Through searing heat, refugees from Northern Mali leave everything behind and head to neighbouring Niger. They are fleeing the Tuareg-led rebellion which has swept the entire region. Babies that are just months old, children and adults travel with little food and water through a desert that easily reach 45 degrees Celsius. These are just a handful of the roughly 200,000 people said to have fled Mali since the Tuareg-led rebellion erupted. These are the lucky ones. Many more have stayed back, uncertain about their future. Everyone is scared.
Ousmane Maiga, Malian teacher fleeing to Niger, said, "It's fear, fear everywhere. When you go out, it's the weapons. When you sleep, it's the weapons. When you wake up it's the weapons. It's only the weapons who are talking. It's a jungle, it's the law of 'whoever's strongest wins'. We don't even know who's in charge of the region. It's a complete mess,"
It's so dangerous, most aid groups have left the area. It is scenes like this that led many northerners living in the capital Bamanko to gather support for their friends and families back home.
Abass Cisse, Gao resident, said, "This rally means the launch of an operation to send aid and medicine, and putting together, orchestrating a caravan to Gao, Kidal and Timbuktu,"
The participants also called on ECOWAS, the African Union, and the international community to liberate northern Mali and set up a humanitarian corridor to supply aid to those trapped in the region.
While neighbouring countries are weighing their options on what to do about the rebels - many northerners hope a mediation can still work.
Zaidan Ag, former Mali rebel, said, "I am against all the separatist project, or independence, and I am registering myself against the division of the republic of Mali. I think the Burkina negotiation can give good results."
International human rights groups have warned that northern Mali is on the brink of a humanitarian disaster, compounded by drought, fighting and a lack of access to the region. Many Malians in the north are now in desperate search of a solution.
Editor:Liu Fang |Source: CNTV.CN