Watch Video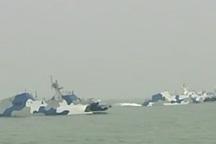 Play Video
China and Russia have announced a plan to hold a joint military drill in April and May. A Russian Navy spokesman said earlier this week that the Russian fleet had left Vietnam for China's Yellow Sea area, where the military drill is to be held.
A military drill, the largest in scale for both China and Russia.
The drill aims to strengthen the strategic partnership between the two sides, while enhancing the capabilities to face new challenges and threats.
All to maintain the peace and stability of Asia and the world...
The venue for the drill has been set in the Yellow Sea, an area neighbouring Japan, the ROK and the DPRK.
According to Chinese military expert, Zhang Zhaozhong, the choice of venue is more sensitive compared with that of 2005, that took place in Russia's Vladivostok.
Russia will dispatch a total of 10 warships, creating a formidable sea formation.
China will also send ships of equivalent number and scale.
Military experts say that the military cooperation of the two countries will be effective in safeguarding territorial integrity and protecting the rights and interests of the seas.
Editor:Zheng Limin |Source: CNTV.CN