Watch Video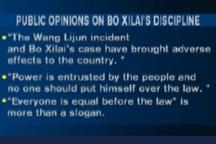 Play Video
People have talked to the media about China's central authority's decision to investigate former Chongqing Party Secretary Bo Xilai's discipline violations.
CCTV has collected the reactions of citizens across the country regarding the cases of Bo Xilai and Wang Lijun.
The people we talked to agreed that the incidents have brought harm to the country, and that the Party's decision showed a commitment to respecting the fact and rule of law.
They said that any Party member must not put himself over the law, and should always remember that power is entrusted by the people.
Some commented to the tune that "Everyone is equal before the law" is more than a slogan, and that a socialist country ruled by law does not recognize any citizen as having special rights.
Others said that procurators should obey professional ethics to avoid misusing their authority. And procurators should be loyal to the country's Constitution and laws.
Still more said that the central authority's swift decision showed its capability and will to safeguard the dignity of law, and China's worldwide image as a socialist country.
Related stories
Editor:Shi Jierui |Source: CNTV