Watch Video
Play Video
China's top political advisor, Jia Qinglin, has met with Thai Prime Minister, Yingluck Shinawatra, and the Thai Privy Council President to discuss the development of bilateral relations. The two sides agreed to strengthen high-level exchanges and maintain regional stability.
Jia Qinglin noted that Thailand was the first ASEAN country to establish a strategic partnership with China.
Jia Qinglin (L), chairman of the National Committee of the Chinese People's Political
Consultative Conference, meets with Thai Prime Minister Yingluck Shinawatra, in Bangkok,
Thailand, April 23, 2012. (Xinhua/Liu Weibing)
He says China is ready to improve cooperation with Thailand, an intimate friend and reliable cooperative partner.
He added that the two countries should ensure their ties play a leading role in maintaining the region's hard-won peace, stability and development.
Yingluck spoke highly of the importance the Chinese side attaches to the relationship with Thailand.
She said Thailand would join hands with China to further promote the China- ASEAN ties.
Jia also met with Thai Privy Council President Prem Tinsulanonda.
Jia said the two nations' good relation is founded on the sustained work of the two nations' leaders for years. China will work with Thailand to push forward the traditional friendship and bring more benefits to the peoples of the two countries.
Prem Tinsulanonda said China and Thailand respect each other, adding that Thailand will strengthen the relationship with China in the future.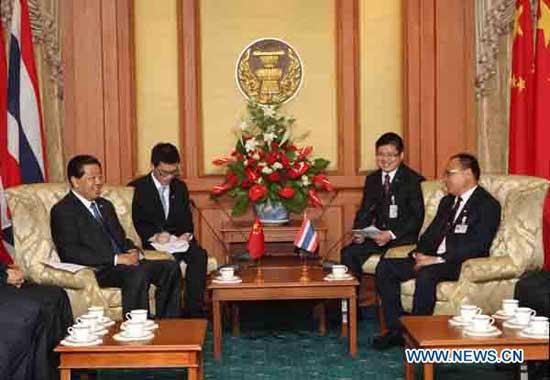 Jia Qinglin (1st L), chairman of the National Committee of the Chinese People's Political
Consultative Conference, meets with President of the Thai National Assembly and Speaker of
the House of Representatives Somsak Kitasuranont (1st R) in Bangkok, Thailand, April 23,
2012. (Xinhua/Liu Weibing)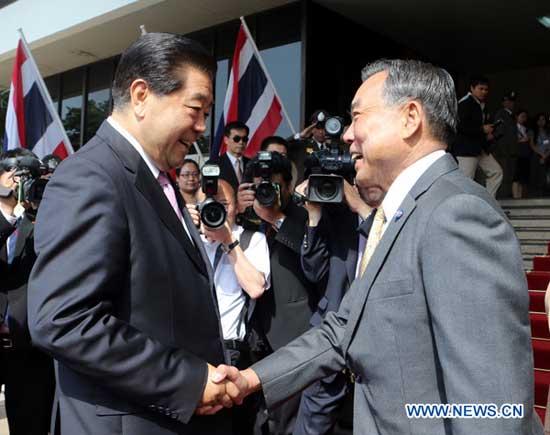 Jia Qinglin (L, front), chairman of the National Committee of the Chinese People's
Political Consultative Conference, meets with Speaker of the Thai Senate Thiradet Miphian,
in Bangkok, Thailand, April 23, 2012. (Xinhua/Yao Dawei)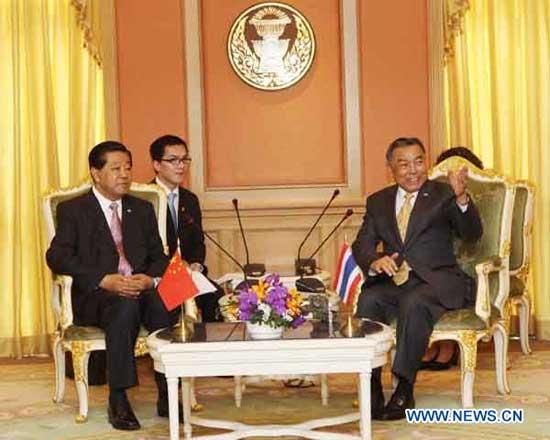 Jia Qinglin (L), chairman of the National Committee of the Chinese People's Political
Consultative Conference, meets with Vice President of the National Assembly and Speaker of
the Thai Senate Thiradet Miphian (R), in Bangkok, Thailand, April 23, 2012. (Xinhua/Liu
Weibing)
Related stories
Editor:Zhang Rui |Source: CNTV.CN