Watch Video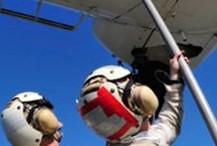 Play Video
Chinese Defense Ministry spokesman has said Chinese naval forces are closely cooperating with the Fishery Administration and the Maritime Surveillance Organizations to protect China's maritime sovereignty. Two weeks after a stand-off at the Huangyan island, Chinese and Philippine vessels still remain in the disputed waters.
Patrolling in the South China Sea.
China has withdrawn two law enforcement ships to reduce tensions in the Huangyan island.
Geng Yansheng, Spokesman of China Ministry of Defense, said, "According to its tasks and missions, the Chinese military will cooperate with the Fishery administration and the Maritime Surveillance organizations to jointly safeguard China's maritime rights. "
The Chinese military says military actions will be in accordance with the need of diplomacy.
China says that the area was mapped as Chinese territory as early as the 13th century. The Philippines claims the area as part of its 200-mile exclusive economic zone. But manila acknowledged the Huangyan Island is integral part of Chinese territory even in its map in 1997.
Albert del Rosario, Philippines Foreign Secretary, said,"When the Philippines is challenged, we are prepared to secure our sovereignty."
Manila requested to take the dispute to an international court.
At the same time, the Philippines is conducting joint military exercises with the US in the area. Beijing criticized Manila's attempt to try and expand the Huangyan Island dispute into an argument over the entire South China Sea.
Meanwhile, China is building a stronger navy to better protect its interests. The building of a new aircraft carrier is its latest attempt.
Geng said, "The aircraft carrier platform has conducted sea trials and tests and has achieved expected results. The next step is to further carry out scientific research. It is irrelevant to the tensions in the South China Sea. "
Attempts to resolve the stand-off have yet to be successful, but the Chinese fishermen hope their normal activities will not be affected.
China 's long-standing policy regarding the South China Sea has been "putting aside disputes, and seek joint development". Thus, it has taken a restrained approach over the Huanyan island dispute, and hopes the confrontation can be solved through diplomatic means. As more countries' interests are involved in the region, conflicts in the South China Sea could increase in the future. "
Related stories
Editor:Zhang Jingya |Source: CNTV.CN