Watch Video
Play Video
Chinese Vice Premier Li Keqiang has addressed the EU-China Cooperation on Urbanization Forum in Brussels, calling for closer collaboration between China and Europe in the field of urban development.
Along with Vice Premier Li Keqiang, around 600 Chinese and EU officials also attended the forum.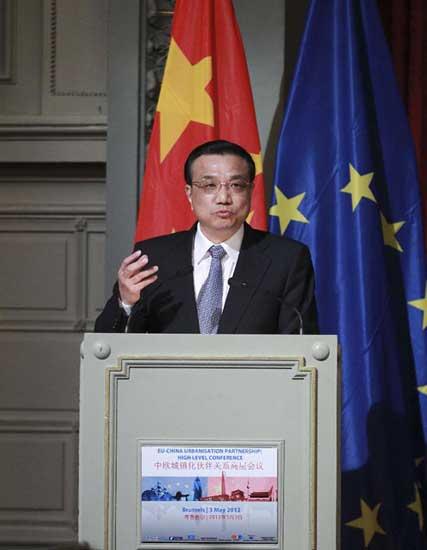 Chinese Vice Premier Li Keqiang addresses the opening ceremony of
the EU-China Urbanization Partnership High Level Conference in Brussels,
Belgium, May 3, 2012. (Xinhua/Ding Lin)
Addressing the high-level meeting, Li expressed China's willingness in enhancing cooperation with EU on its urban development.
He said urbanization should serve as the new platform for practical cooperation between China and Europe in the future, as it serves both sides' interests.
Li called on European countries to share with China their experiences and technologies in urban planing, energy conservation, environmental protection as well as public services.
Calling urbanization the most important inner drive for the Chinese economy, Li Keqiang said the China-EU cooperation had also provided Europe an opportunity to address its current sovereign debt crisis.
Li noted that China, which now boasts an urban population of 700 million, four times as large as it was three decades ago. But he noted that environmental problems have become a bottle neck hindering China's urban development.
China and the EU launched their partnership on sustainable urbanization during the last China-EU summit in February this year.
The partnership was aimed at strengthening cooperation and dialogue on issues such as urban planning, energy supplies for cities and waste recycling.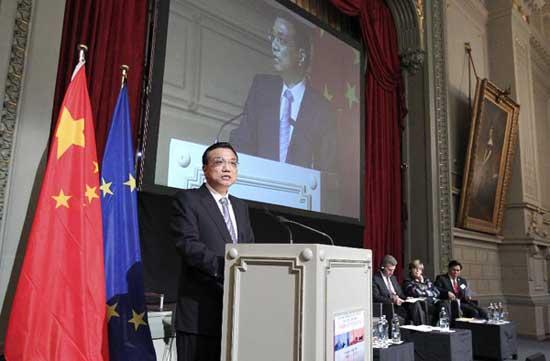 Chinese Vice Premier Li Keqiang addresses the opening ceremony of the EU-China
Urbanization Partnership High Level Conference in Brussels, Belgium, May 3, 2012.
(Xinhua/Ding Lin)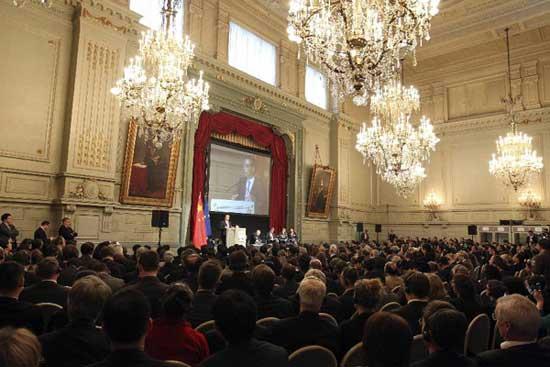 Chinese Vice Premier Li Keqiang (back) addresses the opening ceremony of the EU-China
Urbanization Partnership High Level Conference in Brussels, Belgium, May 3, 2012.
(Xinhua/Ding Lin)
Related stories
Editor:Zhang Rui |Source: CNTV.CN