Watch Video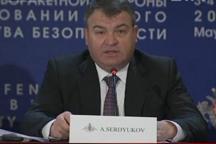 Play Video
Russia's top military officer has threatened a pre-emptive strike on US-led NATO missile defence facilities in Eastern Europe if Washington goes ahead with its controversial missile defence plan.
Last year, President Dmitry Medvedev said that Russia would retaliate militarily if it did not reach an agreement with the United States and NATO regarding its plan to deploy a missile defense system. On Thursday, Chief of General Staff Nikolai Makarov went further, saying "a decision to use destructive force pre-emptively will be taken if the situation worsens."
Russia's Defence Minister Anatoly Serdyukov also warned on Thursday that talks between Moscow and Washington on the US-led NATO missile defence plan in Europe were deadlocked.
Serdyukov said, "Our countries face a dilemma: either we pass the test for cooperation and react jointly to new missile challenges and threats, or we'll be forced to take military and technological measures depending on the realisation of the anti-missile plans."
On Thursday, at the start of a two-day missile defense conference in Moscow with representatives from about 50 countries, a top Russian defence official reiterated Moscow's offer to run the missile shield together with NATO.
Russia's security council secretary Nikolai Patrushev said, "Nobody disputes NATO's right to take measures for defence against missile threats coming from outside Europe. What Russia is striving for is a guarantee that the anti-ballistic missile defence system that NATO and the US plan to set up won't in the near future be directed at the neutralisation of our nuclear deterrent potential."
NATO, however, clarified the capability and the aim of missile defense system.
Deputy secretary general of NATO Alexander Vershbow said, "We have no desire at all to disturb global strategic stability. Quite the contrary, NATO's missile defence will be capable of intercepting only a small number of relatively unsophisticated ballistic missiles. It doesn't have the capability to neutralise Russia's deterrent. Our NATO system is not designed against nor directed at Russia."
The conference in Moscow is the last major Russia-US meeting about military issues before a NATO summit in Chicago later this month. Russia hasn't said whether it will send top officials there.
Related stories
Editor:Zhang Rui |Source: CNTV.CN