Watch Video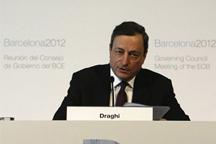 Play Video
The European Central Bank has announced its decision to hold interest rates unchanged, which are at a record low of 1 percent.
President of ECB Mario Draghi said, "We decided to keep the key ECB rates unchanged. Inflation rates are likely to stay above 2 percent in 2012. However, over the policy relevant horizon, we expect price developments to remain in line with price stability. Consistent with this picture, the underlying pace of monetary expansion remains subdued."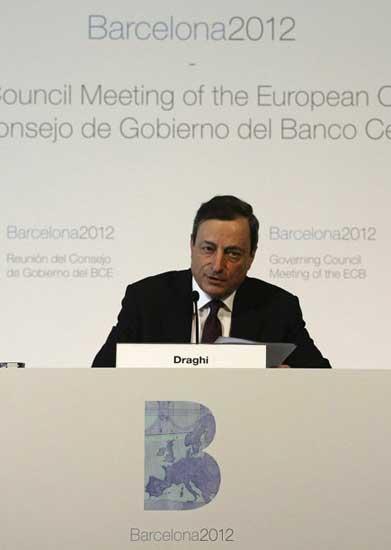 European Central Bank (ECB) President Mario Draghi addresses
a news conference following an ECB meeting in Barcelona, May 3,
2012.
Draghi offered little promise of new help for the struggling eurozone economy, but instead urged governments to continue with tough spending cuts and observe austerity fiscal discipline. He said that the best hope for growth would be a Europe-wide push on deep economic reforms.
Those could include cutting red tape for businesses and reforming unbalanced labour market practices that make it hard to fire established employees, leaving older workers protected and younger ones facing a high likelihood of unemployment.
Draghi said the euro zone economy would recover gradually this year, supported by foreign demand, very low short-term interest rates in the euro area as well as other measures.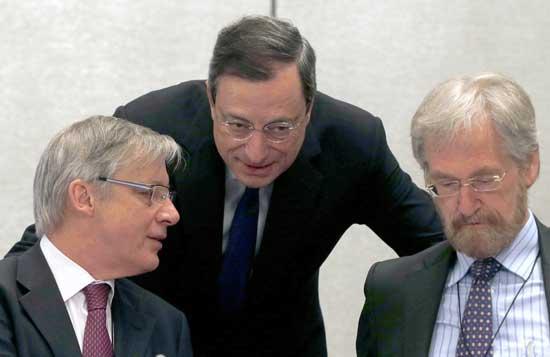 European Central Bank (ECB) President Mario Draghi (C) speaks to France's Central
Bank Governor Christian Noyer (L) and Member of the Executive Board of the ECB Peter
Praet before the start of an ECB meeting in Barcelona May 3, 2012.
Editor:Zhang Rui |Source: CNTV.CN