Watch Video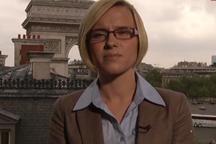 Play Video
The final showdown in France's presidential race has begun. Voters will choose between incumbent Nicolas Sarkozy and Socialist challenger Francois Hollande. The election could have an impact on everything from Europe's efforts to fight its debt crisis to how long French troops stay in Afghanistan. Full story >>
For more on the presidential election, our correspondent Kate Parkinson joins us from Paris.
Q1: Kate, the voting began several hours ago. How's it going?
Q2: In the first round of voting, there were ten candidates. Far-right Marine Le Pen won nearly 20 percent. What have Sarkozy and Hollande been doing to woo swing voters this time?
Q3: Some say the French election is also an election for the Eurozone. How will it influence the Eurozone, if Hollande wins?
Editor:Zhang Rui |Source: CNTV.CN