Watch Video
Play Video
US President Barack Obama has already plunged into his campaign for a new presidential term. In Richmond, Virginia, Obama tore into rival Mitt Romney as a willing and eager "rubber stamp" for conservative Republicans in Congress. He also criticized conservative Republicans' agenda to cut taxes for the rich, and reduce spending on education and medicare.
A willing and eager "rubber stamp".
That are the words President Obama chose to tear into his rival Mitt Romney.
U.S. President Barack Obama (L) and First Lady Michelle Obama attend a campaign event
at Virginia Commonwealth University in Richmond, Virginia, the United States, May 5,"
2012. Obama on Saturday held two campaign rallies in Columbus of Ohio and Richmond of
Virginia, kicking off the first official campaign events for his reelection bid.
(Xinhua/Zhang Jun)
Obama also says Romney is merely doing the bidding of the conservative powerbrokers in Congress, and has little understanding of the struggles of average Americans.
Obama said, "He sincerely believes that if CEO's and wealthy investors like him make money, the rest of us will automatically prosper as well. Well, let me tell you something Virginia: the problem with our economy is not that the American people aren't productive enough. You've never been working harder in your lives."
In his speech, President Obama also officially started his re-election campaign.
Obama said, "We've got to move forward to that future where everyone gets a fair shot and everyone does their fair share and everyone plays by the same rules. That's the choice in this election, and that's why I'm running for a second term as President of the United States of America."
Six months before Election Day, the polls point to a close race between Obama and Romney, with the economy the overriding issue as the nation struggles to recover from the worst recession since the 1930s.
Unemployment remains stubbornly high at 8.1 percent nationally, although it has receded slowly and unevenly since peaking several months into the president's term.
Obama made the comments by holding back-to-back rallies at colleges in Ohio and Virginia, where he won both states in 2008.
Both states are expected to be hotly contested in the Autumn elections.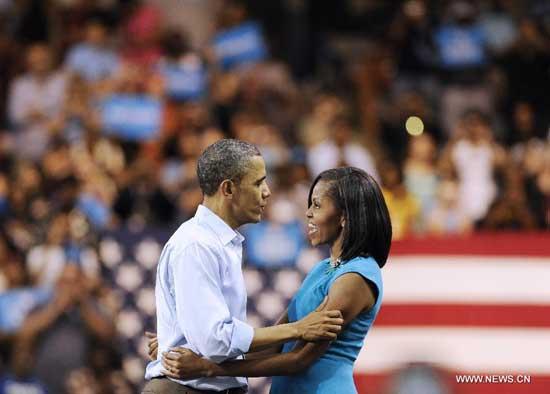 U.S. President Barack Obama (L) and First Lady Michelle Obama attend a campaign event
at Virginia Commonwealth University in Richmond, Virginia, the United States, May 5,"
2012. Obama on Saturday held two campaign rallies in Columbus of Ohio and Richmond of
Virginia, kicking off the first official campaign events for his reelection bid.
(Xinhua/Zhang Jun)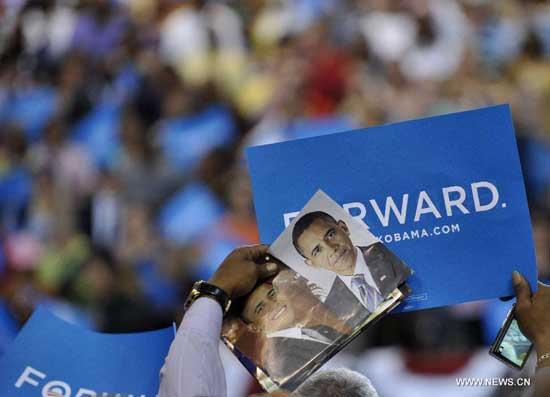 A supporter of U.S. President Barack Obama holds placards and photos when attending a
campaign event at Virginia Commonwealth University in Richmond, Virginia, the United
States, May 5, 2012. Obama on Saturday held two campaign rallies in Columbus of Ohio
and Richmond of Virginia, kicking off the first official campaign events for his
reelection bid. (Xinhua/Wang Yiou)
U.S. President Barack Obama attends a campaign event at Virginia Commonwealth
University in Richmond, Virginia, the United States, May 5, 2012. Obama on Saturday
held two campaign rallies in Columbus of Ohio and Richmond of Virginia, kicking off
the first official campaign events for his reelection bid. (Xinhua/Zhang Jun)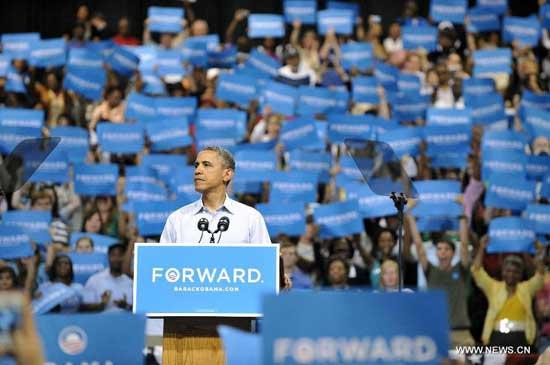 U.S. President Barack Obama attends a campaign event at Virginia Commonwealth
University in Richmond, Virginia, the United States, May 5, 2012. Obama on Saturday
held two campaign rallies in Columbus of Ohio and Richmond of Virginia, kicking off
the first official campaign events for his reelection bid. (Xinhua/Wang Yiou)