Watch Video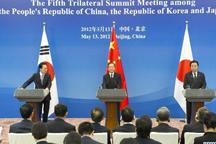 Play Video
The leaders of China, Japan and South Korea gather in Beijing Sunday and Monday for the annual trilateral summit. This marks the 5th year of the meeting. Economic cooperation, along with regional and international affairs are on top of the agenda.
At a press conference after Sunday morning's meeting, Chinese Premier Wen Jiabao praised the progress from the cooperation by the three countries. He expressed high expectations for this year's meeting.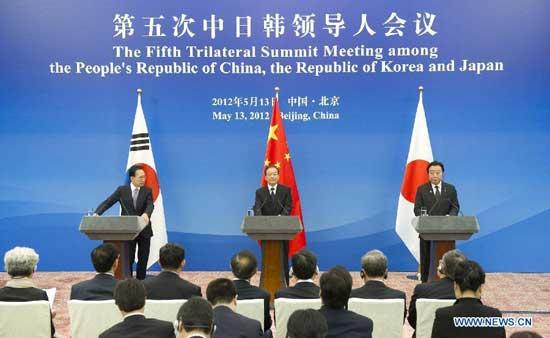 Chinese Premier Wen Jiabao (C), President of the Republic of Korea (ROK) Lee
Myung-bak (L) and Japanese Prime Minister Yoshihiko Noda (R) jointly meet the
press after the Fifth Trilateral Summit Meeting among China, the Republic of
Korea (ROK) and Japan at the Great Hall of the People in Beijing, capital of
China, May 13, 2012. The meeting kicked off in Beijing on Sunday morning. (Xinhua/Huang Jingwen)
Wen said, "We are very pleased with the accomplishments of our trilateral cooperation in the past year. Furthermore, we wish to realize our hope for a peaceful and stable future in the region."
The three leaders are discussing expanding economic cooperation. The main aim is a Free Trade Area (FTA), as well as joint response to natural disasters, weather information and education.
Wen said, "The meeting today has achieved two significant results. One is to the plan to launch the Free Trade Area negotiation within this year. Secondly, we have already signed an Investment Agreement - which will enable a stable and transparent investment atmosphere among our countries."
ROK president Lee Myung-bak said, "The Investment agreement is the very first economic document agreed on among the three countries. This will provide legal protection for investors in all three countries."
Japanese Prime Minister Yoshihiko Noda said, "Japan's economy was affected enormously from the March earthquake and tsunami last year. This Investment Agreement will play an important role to help the recovery of our economy. The trilateral economic cooperation will form a greater driving force for North-east Asia economies and the world economy as a whole."
Security issues - such as DPRK's nuclear program-- are also high on the agenda.
Lee said. "For the new leadership of the DPRK. Opinions gathered from the three countries - We agreed not to accept any future nuclear test."
A declaration is to be adopted at the close of the summit. It will reflect the progress in cooperation and reaffirm their will to strengthen the partnership.
Reporter: "Cooperation among China, Japan and South Korea has produced remarkable results since the first trilateral summit in 2008. The leaders believe this year's meeting will build on that success. But some experts note that each country has outstanding bilateral issues, so a Free Trade Area might not come easy. "
Chinese Premier Wen Jiabao (C), President of the Republic of Korea (ROK) Lee
Myung-bak (L) and Japanese Prime Minister Yoshihiko Noda (R) jointly meet the
press after the Fifth Trilateral Summit Meeting among China, the Republic of
Korea (ROK) and Japan at the Great Hall of the People in Beijing, capital of
China, May 13, 2012. The meeting kicked off in Beijing on Sunday morning. (Xinhua/Huang Jingwen)
Editor:Zhang Rui |Source: CNTV.CN