Watch Video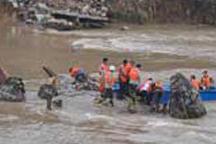 Play Video
Multiple disasters triggered by harsh weather in northwest China's Gansu province have so far claimed 50 lives and injured more than a hundred. Massive rescue operations are underway as more than 400,000 people have been affected and over 2,000 hectares of farmland ruined.
Floods and landslides trigged by heavy rainfall along with hail beginning on May 10th caused about 20-thousand buildings to collapse and damaged many more. More than 30 counties in the province were affected. Xi-dian and Min'xian counties were among the hardest-hit.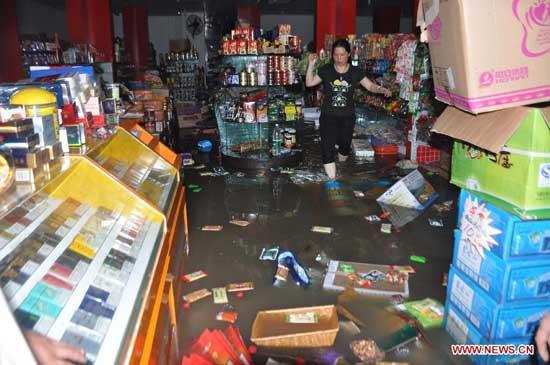 Photo taken on May 12, 2012 shows a supermarket which was flooded after heavy rains
in Liuzhou City, south China's Guangxi Zhuang Autonomous Region. Torrential rains hit
Liuzhou on Saturday night. (Xinhua)
Officials have relocated 15.000 people to safety but said 23 were still missing. A large number of roads were blocked as well, making it difficult for authorities to reach the trapped.
Rescuers are now struggling to get to people in urgent need of quilts, tents and other relief supplies. The provincial government also said families of each victim will get 8,000 yuan in compensation.
Related stories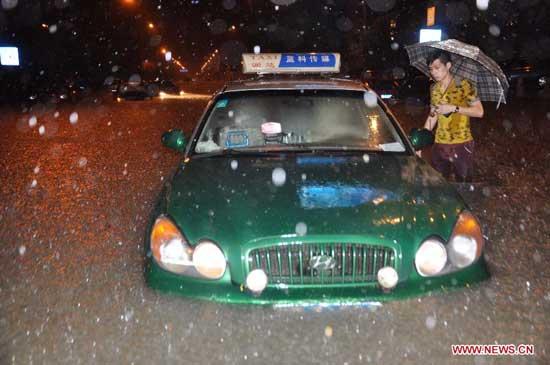 A taxi breaks down in ponding water of heavy rains in Liuzhou City, south China's
Guangxi Zhuang Autonomous Region. Torrential rains hit Liuzhou on Saturday night.
(Xinhua)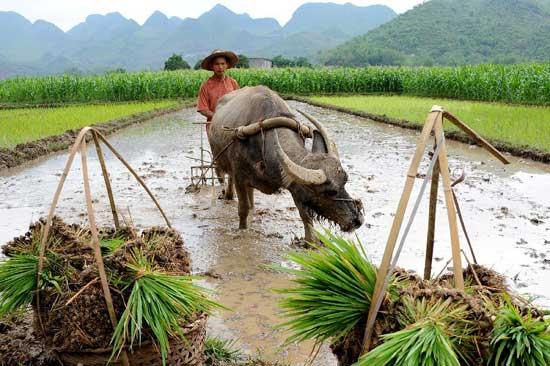 A farmer works in the fields at Xinwei Village of Baise City, south China's Guangxi
Zhuang Autonomous Region, May 13, 2012. Rain in recent days has eased a lingering
drought in the city. (Xinhua/Luo Zhiken)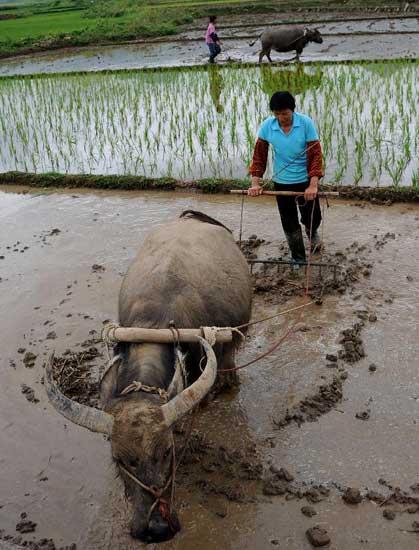 Farmers work in the fields at Xinwei Village of Baise City, south
China's Guangxi Zhuang Autonomous Region, May 13, 2012. Rain in
recent days has eased a lingering drought in the city. (Xinhua/Luo
Zhiken)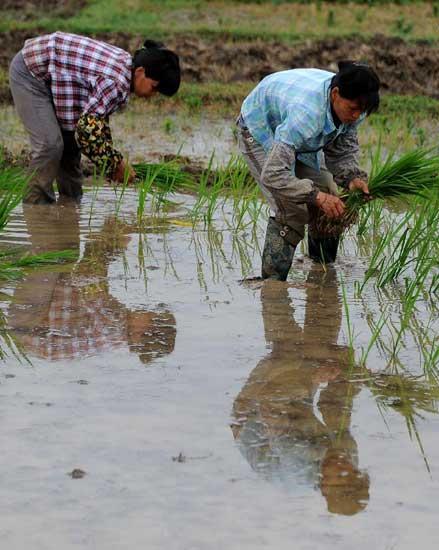 Farmers plant rice seedlings in the fields at Xinwei Village of Baise
City, south China's Guangxi Zhuang Autonomous Region, May 13, 2012.
Rain in recent days has eased a lingering drought in the city.
(Xinhua/Luo Zhiken)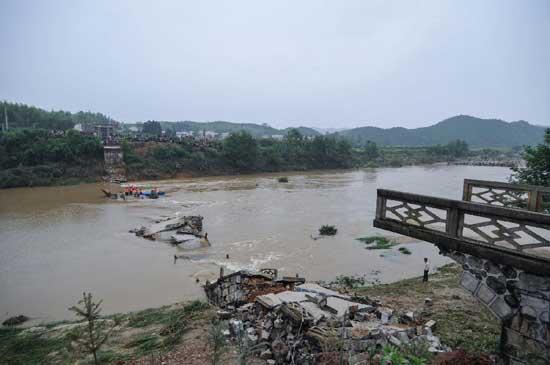 Photo taken on May 13, 2012 shows the accident site after a bridge collapsed in
Pingjiang County, central China's Hunan Province. The bridge, which connects two
townships of Meixianqiao and Yuping in Pingjiang county, collapsed at around 8:30
a.m. on Sunday. It is unknown how many people were injured or even killed in the
collapse but witnesses said that there were people falling into water under the
bridge, according to rescuers. The county was battered by torrential rains on
Saturday, which might have something to do with the collapse, officials said.
Saturday's strong rainfall toppled over 3,500 homes and forced more than 28,880
people to evacuate in the county. (Xinhua/Bai Yu)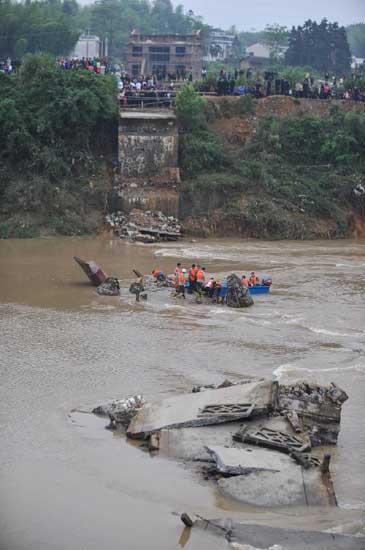 Rescuers work at the accident site after a bridge collapsed
in Pingjiang County, central China's Hunan Province, May 13,
2012. (Xinhua/Bai Yu)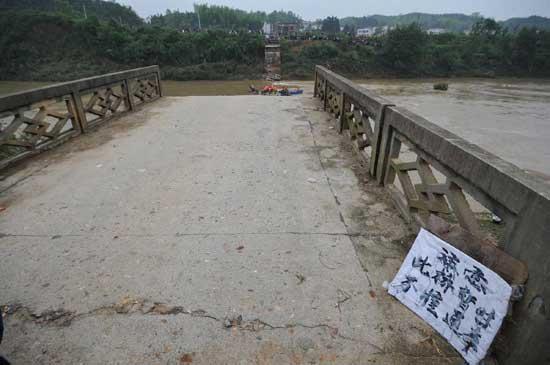 Photo taken on May 13, 2012 shows the accident site after a bridge collapsed in
Pingjiang County, central China's Hunan Province. (Xinhua/Bai Yu)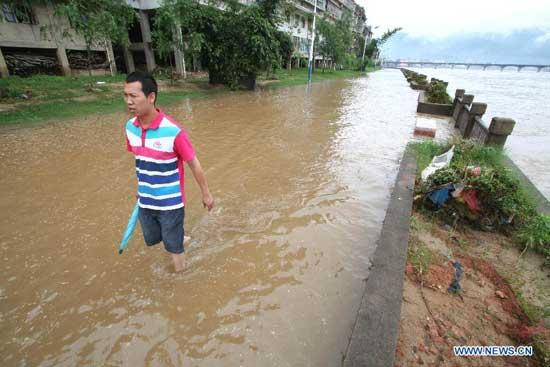 A resident wades through a waterlogged road in Shunchang County, southeast China's
Fujian Province, May 13, 2012. Lingering rains brought flood to Shunchang County on
Sunday. Some houses and public facilities were submerged by the flood water.
(Xinhua/Chen Baicai)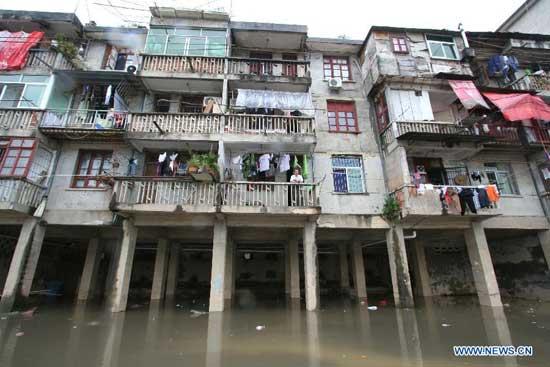 A resident stands on balcony of his family as the building is partly submerged by
flood in Shunchang County, southeast China's Fujian Province, May 13, 2012. Lingering
rains brought flood to Shunchang County on Sunday. Some houses and public facilities
were submerged by the flood water. (Xinhua/Chen Baicai)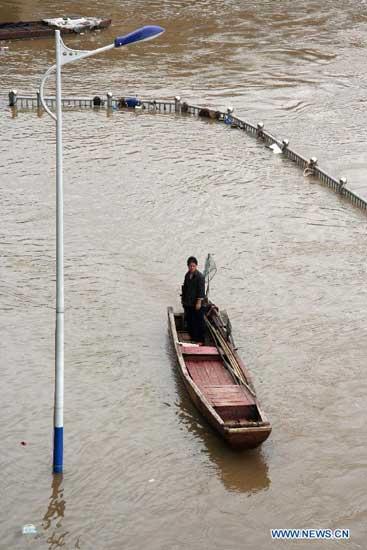 A vessel sails on a severely waterlogged road in Shunchang
County, southeast China's Fujian Province, May 13, 2012.
Lingering rains brought flood to Shunchang County on Sunday.
Some houses and public facilities were submerged by the flood
water. (Xinhua/Chen Baicai)
Editor:Zhang Rui |Source: CNTV.CN