Watch Video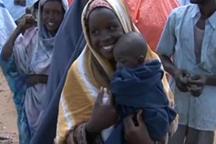 Play Video
The International Mother's Day was marked across the world on Sunday. However, in the African state of Somalia, such celebrations have long been at the back of people's minds, amid the turmoil of war - a war in which women often bore the heaviest burden of suffering.
Somalia mothers have been through hell, witnessing all the heart ache, they have seen a nation get polarized and in-laws turning against one another. They were left with no side to offer shoulder.
After 21 years though, light shines at the end of the tunnel for Somali woman, the draft constitution allows 30% of women representation in leadership positions.
Somalia Women & Family Affairs Minister Maryan Aweys Jama said, "Women are the backbone of society. Nobody is born great, they are guided by their mothers. Somali mothers have had to bring up their children in the most hostile environment, in the midst of war. I congratulate all Somali mothers wherever they are"
The Somali woman becomes a mother at an age that is considered by other societies as still too young. At fourteen, the Somali lady gets betrothed to an arranged husband.
Living in a nation so fluid that situations change by the hour, Somali mothers had to live through the edge of a thin line, many a time, a husband leaves in the morning to eke a living only to be brought back by night fall already a corpse.
Reporter: "We celebrate the Somali mother. The mother is the foundation of the family. They bring up, educate, and care for our children. Every good child has a good mother and every good husband has a good wife."
Somali women are however proud mothers; they strive to bring up their children in the most humane way, reason why they take up jobs that the Somali society would deem unsuitable for women.
They joined the forces, became civil activists and are active in politics.
Reporter: "We call upon all men to be good to their women, especially Somali men. Somali women have already been through too much. We ask our men to support their women"
After all the turmoil, Somali mothers can still afford to smile with satisfaction, they stood up tall and are the reason why these youth reach up to their dreams.
Reporter: "No one can be more proud than the Somali mother at the prospect of a lasting peace in Somalia, the Somali mother is the most significant victim of the two decade long Somalia conflict."
Editor:Zhang Rui |Source: CNTV.CN