Watch Video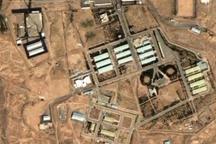 Play Video
An image has been released of an explosives containment chamber needed for nuclear arms testing -- with the picture allegedly taken inside an Iranian military base. United Nations inspectors have long suspected Tehran of secretly developing nuclear weapons as part of its uranium enrichment program - a claim that Iran denies.
Iran has neither confirmed nor denied the existence of the chamber. But the country continues to insist it's not developing nuclear weapons.
The picture is thought ot have come from an informant working inside Iran's Parchin military site.
One former senior IAEA official says he believes the image is genuine: Olli Heinonen, until last year the agency's deputy director general, says it's similar to a photo of a pressure chamber thought to be at the same base.
Mark Fitzpatrick, director of the International Institute for Strategic Studies agrees, said, "What one does inside such a chamber is conducts high explosives testing. You are going to make something go boom with maybe 70 kilograms of high explosives, you need to contain the explosion. And particularly if you are using uranium, which is reportedly the case, you want to contain all the uranium dust so there's not any tell-tale, observable signals of that experimentation."
The UN nuclear agency has been trying to gain access to some of Iran's top secret military facilities for more than four years.
On Monday, IAEA and Iranian officials will meet in Vienna, as the IAEA tries once again to gain access to the allegedly hidden chamber at the base.
And any evidence that Iran is hiding such an explosives containment tank, and details on how it functions, is significant for IAEA investigations.
Related stories
Editor:Zhang Rui |Source: CNTV.CN