Watch Video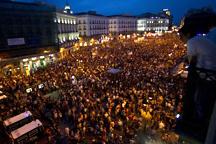 Play Video
In Madrid, the number of protesters has grown. This comes after 18 people were arrested early on Sunday. The protesters aim to stay on the square until Tuesday.
Police say a total of 72, 000 people protested across Spain over the weekend, with 30, 000 in Barcelona and 22,000 in Madrid. They are calling for an end to what they consider to be hardline measures by the government.
Spain has entered a recession for the second time since the global economic downturn. Its unemployment rate is the highest among the 17 countries using the Euro.
A total of 72,000 people protested across Spain, with 30,000 in
Barcelona and 22,000 in Madrid, pictured, as Spaniards marked
the first anniversary of the Indignant Movement [Indignados],
which inspired similar anti-authority demonstrations across
the world.
A man looks out from a balcony as protesters pack the Puerta del Sol plaza in central
Madrid Saturday May 12, 2012. The protesters returned to Sol to mark the anniversary
of the protest movement that inspired groups in other countries.
Related stories
Editor:Zhang Dan |Source: CNTV.CN