Watch Video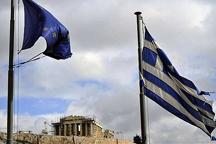 Play Video
Eurozone finance ministers meet in Brussels today to discuss ways to stimulate growth in the wake of economic forecasts that reveal some member states have little hope of meeting deficit targets.
CCTV correspondent Jack Barton reports the meeting also comes amid renewed fears that Greece may still undergo an involuntary default, which would almost certainly lead to it abandoning the Euro.
After a few months of relative calm Eurozone finance ministers meet in Brussels today amid a renewed sense of economic crisis in the Eurozone. Once again Greece is stealing the headlines after parliamentary elections there resulted in strong gains for anti-austerity parties.
They're vowing to tear up a deal, which promises EU bailout funds in return for crippling spending cuts and tax hikes. The only thing stopping them is their inability so far to forge a coalition government. Unsurprisingly there is alarm in Brussels.
Herman Van Rompuy, President of European Council, said, "I am very concerned about the situation in Greece this is a defining moment for the country. I appeal to the sense of national responsibility of all political leaders to reach an agreement respecting the country's engagement and ensuring it's European future"
Germany conceded last week that contingency plans are being made in case the Euro's future does not include Greece, something the trading block's markets now seem convinced of.
And then there's Spain, where the deficit forecast for this year is more than double the limit allowable under EU rules.
The Spanish government last week took control of one of the country's largest banks and is working hard on a plan to shore up its own finance sector, but as the country's economic fundamentals continue to deteriorate and the need for a potential EU bailout is no longer inconceivable.
France's finance minister will not attend as President Francois Hollande has not yet been officially been sworn in. At the meeting there will no doubt be public calls to stick to the path of austerity while also promoting a parallel strategy of growth that is yet to be defined.
Above all it will be a Eurozone meeting where finance ministers will plan for the best while simultaneously preparing for the worst.
Related stories
Editor:Zhang Dan |Source: CNTV.CN