Watch Video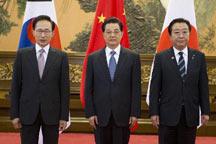 Play Video
The leaders of China, Japan and South Korea have ended their trilateral summit. During the two-day meeting, the leaders reviewed the progress of trilateral cooperation and laid out plans for the future.
President Hu Jintao met with South Korea President Lee Myung-bak and Japanese Prime Minister Yoshihiko Noda in Beijing on Monday.
He said the close exchanges among the leaders reflect the great importance the three nations attach to their relationships and cooperation.
Liu Youfa, the Vice President of the China Institute of International studies says Hu's presence at the summit is significant.
During the meeting, President Hu Jintao said China highly values its ties with South Korea and Japan, and stands ready to work with them to properly handle existing problems and differences, respect and accommodate each other's major concerns, and promote the development of its ties with the two counties
At Sunday's meeting, the three sides agreed to launch talks on a free trade area (FTA) this year, and witnessed the signing of an agreement to promote, facilitate and protect investment between the three countries.
Experts say the trilateral FTA will further consolidated China's trading environment and move industry up the added value chain.
South Korea has already signed free trade pacts with the US and Europe, and negotiations with China have now officially begun. The Japanese Prime Minister said Japan will now pursue similar policies "in parallel."
"China has been the top trade partner of both Japan and the South Korea for many years, and in turn they are major trade partners and sources of investment for China. Chinese Premier Wen Jiabao said on the first day of the trilateral summit facts prove that cooperation between China, Japan and South Korea is in the fundamental interests of the three nations and their peoples despite there are still many uncertainty lying ahead. Xie Sisi, CCTV"
High-level exchanges
Chinese president meets ROK president, Japanese PM
Chinese President Hu Jintao met here Monday morning with Republic of Korea (ROK) President Lee Myung-bak and Japanese Prime Minister Yoshihiko Noda. Full story >>
Premier Wen meets with ROK president, Japanese PM
The fifth meeting of the leaders of China, Japan and the Republic of Korea (ROK) kicked off in Beijing on Sunday morning. Full story >>
Trilateral meetings fruitful
China, Japan, ROK to start FTA negotiation within this year
China signs investment agreement with Japan, ROK
Joint Declaration on Enhancement of Trilateral Comprehensive Cooperative Partnership among China, ROK, Japan
Joint Statement on Agricultural Cooperation among China, ROK, Japan
Joint Statement of Cooperation on Forest Management,Desertification, Wildlife Conservation among China, ROK, Japan
Related stories
Editor:Zheng Limin |Source: CNTV.CN