Watch Video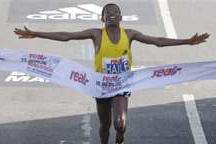 Play Video
For the first time since the 1996 Olympics games in Atlanta, Ethiopia's sporting legend Haile Gebreselassie will not represent his country at the Olympic Games. Commitments outside the running field are his reasons for missing out on Ethiopia's three man marathon team to London. But as Celestine Karoney reports, the 39 year old isn't about to retire in the face of recent failures.
Haile Gebreselassie's exploits on the road and track in athletics has earned him two Olympic and four world 10,000m titles, nine marathon victories and the distinction of being the first man in history to run a sub-2hr 4min marathon.
In 2012 the running maestro desired to add an Olympic marathon medal to this list but a 2:08:17 win at the Tokyo marathon where he finished fourth saw him miss out on the team since this time meant 18 other Ethiopians had run faster than him this year.
Ethiopian athlete Haile Gebreselassie said, "Marathon in London will be huge and since its Olympics I would have loved to be there but sadly I will miss."
Reporter: "Sports personalities often patron or sponsor events in their home areas and Ethiopia's sporting icon Haile Gebreselassie is no different. At the turn of the millennium he began the Great Ethiopian run which has grown into Africa's largest 10km event. This year another of brain child of his? The Hawassa annual event a 21km race turned three. Hawassa is special to Haile not only because of the race but the former world record holder has invested in a resort on the shores of lake Awassa which lends its name to the city. This is just but one of the many businesses Haile's has in Ethiopia."
Haile Gebreselassie said, "It wasn't easy this year I beat myself I had too many commitments and I lacked the discipline I needed."
The 39 year old whose body has been showing the wear and tear that comes with age however refuses to give up just yet on his running career. In 2010 he flirted with the notion of retirement after an inflamed knee saw him pull out of the New York marathon.
Haile Gebreselassie said, "When you are getting older you need to give young athletes space to come through but me and Tergat will never give up running so not yet."
Ethiopian sports journalist Bizuayehu Wagaw said, "I think he can still hang on for two years or so?"
Haile now jokes about his absence in London and while fans lining the streets at the Olympic Games will not see him add to the ever interesting Kenyan versus Ethiopian rivalry, his determination to keep running will allow fans to cheer him on. Haile is expected to feature in this year's Manchester run on May 20th.
Editor:Zhang Rui |Source: CNTV.CN