Watch Video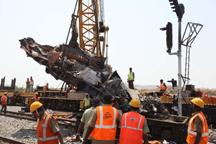 Play Video
In southeast India, rescue attempts have pulled out at least 70 people from the crash site. So far 35 injured have been taken to nearby hospitals.
The crash occurred near Penukonda station in Anantapur district of Andhra Pradesh state at 3:15 a.m. local time. An Indian Railways official says, the exact number of people trapped is not known, but rescue efforts are ongoing.
Meanwhile, the Railway Ministry has announced compensation of 10,000 US dollars for the relatives of those killed, and $2,000 dollars for those critically injured.
18 charred to death, 25 injured in major rail mishap in southern India
At least 18 people were charred to death and more than 35 others sustained injuries in a major rail mishap in the southern Indian state of Andhra Pradesh just before dawn Tuesday, a senior railway police official said. Full story >>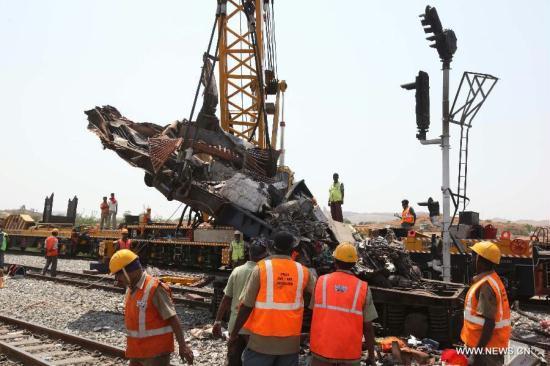 A crane lifts the wreckage of the train after an accident at a station near Penukonda,
about 170 kilometers (105 miles) north of Bangalore, India, May 22, 2012. A passenger train
rammed into a stationary freight train and burst into flames before dawn Tuesday, killing
more than 20 people and injuring more than 35 others in southern India, officials said. The
train was going from Hubli district in the state of Andhra Pradesh to the neighboring state
of Karnataka's capital Bangalore. (Xinhua/Stringer)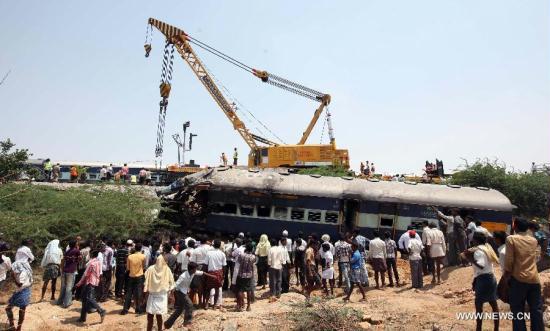 Rescuers work at the site after an accident at a station near Penukonda, about 170
kilometers (105 miles) north of Bangalore, India, May 22, 2012. A passenger train rammed
into a stationary freight train and burst into flames before dawn Tuesday, killing more
than 20 people and injuring more than 35 others in southern India, officials said. The
train was going from Hubli district in the state of Andhra Pradesh to the neighboring state
of Karnataka's capital Bangalore. (Xinhua/Stringer)
Related stories
Editor:Zhang Dan |Source: CNTV.CN