Watch Video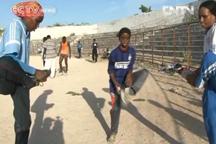 Play Video
As the Olympic torch begins it historic 8000 mile relay across Britain, the countdown to this year's London Olympics begins. Among the tough names marking time to the Olympics are two teen Somali girls who, in spite of the chaos, show unshakable resolve to make an impact.
Amal Mohamed, 19 year old Mogadishu born girl has a dream; she is a teen with an ambition. She confidently says that she can quench her thirst only after she rises to the podium amid the Somali National anthem to receive a world honour. The same can be deduced from her stamina and devotion. She trains rigorously and her impeccable performance raises the hopes of her coach.
Somali athlete Amal Mohamed said, "We do vigorous training every morning and afternoon. We are aware of other tough competitors with better environment and experience; I don't want to dwell on that. I am hopeful Somalia would be among the victors."
Coach Ahmed Ali who has trained and took Amal's predecessor lady Samia to the 2008 Beijing Olympic games, sees a replica of Samia in Amal. Samia who has since passed on represented Somalia in Beijing back in 2008. Though Coach Ahmed grieves for her sudden demise, he smiles watching Amal take the long strides. The Same devotion and spirit is alive in Zamzam who trains alongside Amal at the Konis Stadium in Mogadishu.
Athletics coach Ahmed Ali said, "We are doing intensive training, some people believe we are going to the Olympics to only show our presence, no we are going with the aim of making an impact. Yes we are going to face bigger nations, stable nations but we are focused to make it to the finals."
Konis, though in poor state is the only Stadium in Mogadishu. These ladies train alongside their male counterparts. In a Somali society where male dominance is default, to nurture a girl's talent in sports has been a long time coming.
Reporter: "They aspire to represent their country in the upcoming London Olympics. Showing unyielding stamina and spirit, they have overcome odds to pursue their dreams in a totally masculine and militant society."
Editor:Zhang Rui |Source: CNTV.CN