Watch Video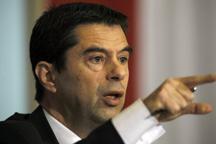 Play Video
Portugal's Finance Minister, Vitor Gaspar, calls the assessment of the country's bailout programme by EU and IMF inspectors "positive," securing another instalment of four billion euros.
Gaspar says Portugal has passed the fourth quarterly review of its 78-billion-euro bailout programme. He says all targets under review have been met and that achieving this year's 4.5 percent of GDP budget deficit target was "viable."
He also predicts public debt will rise 3 percentage points to 118 percent of GDP in 2013. The country has stuck with its agreed programme of austerity measures, featuring pay cuts and tax rises, and broad economic reforms, despite the recession and trade union opposition.
Vitor Gaspar said, "A year has passed since the programme was agreed on. What are the main results of this first year? Economic activity is less than was initially predicted, reflecting the character of the loan which more than compensated for the weakness of internal demand. In this way there was a budget far superior to the expected external demand. We complied with the public debt in 2011 and the first trimester of 2012. We have made important steps and we will continue to work to consolidate financial stability and stabilise the financial sector."
Editor:Zhang Dan |Source: CNTV.CN