Watch Video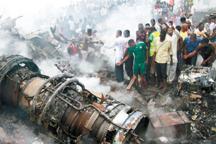 Play Video
Nigerian emergency services have pulled more bodies out of the still-smouldering wreckage of a doomed Dana Air flight. The plane crashed in the commercial hub of Lagos on Sunday, killing all 153 people on board and over 40 on the ground. President Goodluck Jonathan declared three days of national mourning and ordered an investigation into the cause of the crash.
At 2:44 p.m, the MD-83 hit a building not far from Lagos's Airport and burst into flames. All 153 people on board died. Over 40 on the ground perished too. Emergency workers are still pulling bodies out of the wreckage.
Wreckage of a plane that crashed on Sunday litters a residential area in Ishaga on the
outskirts of Lagos, Nigeria's largest city. At least six Chinese citizens were on board the
Dana Air flight. [Photo/Agencies]
Babatunde Fashola, Lagos state governor, said, "It is simply too much to take in at one time, really. Ordinary people trying to earn a living ending up so tragically and untimely, the families, the pilots, the crew, young Nigerians whose lives have been so drastically and suddenly cut short. It is a very, very traumatic and painful experience."
Air craft crashes are not uncommon in Nigeria, where several domestic airlines operate under poor conditions such as financial difficulties and poor staffing. President Goodluck Jonathan promised to get to the bottom of the accident and make flying safer in Nigeria.
President Goodluck Jonathan said, "So at the end of the day, we will make sure that this doesn't repeat itself again in this country. You will recall that only on Saturday, we had also a similar incident in Ghana, where a Nigerian air cargo had a similar incident, but that was not as devastating as this. We will make sure that we do our best for this country and for the world, so that the Nigerian air space will be a safe place."
The cause of the crash remained unclear Monday. The plane's black box flight recorder has been found and handed over to police.
Related stories
Editor:Zhang Dan |Source: CNTV.CN