Watch Video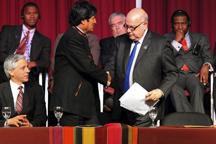 Play Video
The 42nd General Assembly of the Organisation of the American States has kicked off in Cocha-bamba, Bolivia.
The Bolivian President, Evo Morales, has called for changes to the regional body. He accused the OAS of not supporting Argentina's claim to the British administered Falkland Islands which are known as the Malvinas in Argentina.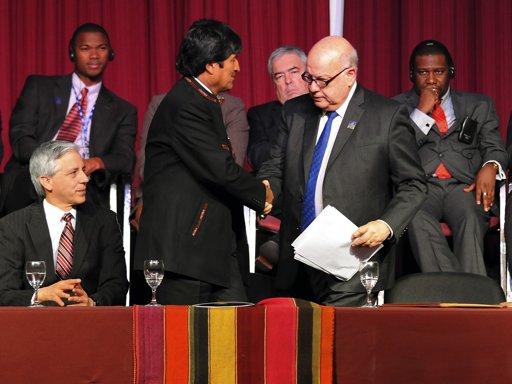 Bolivia's President Evo Morales (front, 2nd L) shakes hands with Organization of
American States (OAS) General Secretary Jose Miguel Insulza as Bolivia's Vice
President Alvaro Garcia (front, L) looks on, during the inauguration ceremony of the
42nd OAS General Assembly in Tiquipaya, Cochabamba June 3, 2012. REUTERS/Danilo
Balderrama (BOLIVIA - Tags: ANNIVERSARY POLITICS)
OAS state-members such as Bolivia, Ecuador and Venezuela have repeatedly accused the US of managing the OAS for its own political agenda. Bolivia and Chile's territorial dispute over 400 square kilometres of coastline and 120 square kilometres of land has also been brought to the table.
But Chile refuses to debate this during the OAS. The OAS is an important regional political organization. The meeting will end on June 5th, with the release of a communiqué.
Editor:Zhang Dan |Source: CNTV.CN