Watch Video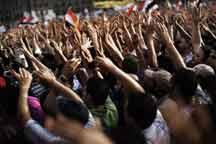 Play Video
Tensions continue to rise in Egypt over a decision to send former president Hosni Mubarak to prison for life. Egypt's top prosecutor says he will file an appeal against the sentence, and so will the defense. And in a related development, protestors in Tahrir square remain adamant about rejecting the results of the runoff election saying they want a presidential committee to rule the country instead.
For three days there have been protests in Tahrir square and in manygovernorates in Egypt.Some sects are still upset at the life prison sentence Mubarak and former interior minister received. They want a death sentence.The prosecutor general announced that he will file an appeal, and so did the defense team.
Mohamed Nassar, Lawyer, said, "The grounds of the appeal for the defense it very easy, they can easily rely on the Judges openingspeech who said that there were no evidence. As for the civil rights lawyersthey will say that this is not a regular murder case, there has been massmurdering in front of hundreds of thousands. And how would the decision makersbe convicted while those who actually commit the orders are not guilty."
But the appeal request didn't slow down the protesters in Tahrir Square. Which leaves the country in a state of flux with only ten days to the presidential election runoff, between the former Prime minister Shafik andMohamed Morsi, the Freedom and Justice party president.
Dr. Yousry Al Azabawy, Analyst of Ahram Strategic Studies, said, "There is no doubtthat the Mubarak's verdict will impact the elections. More percentage will boycot the elections. It made all political streams stop negotiating with Shafik to givehim support. This gave morsi the upper hand in negotiations after he was goingto make many sacrifies to get their support. This makes the Muslim brotherhood control the political scence."
Now both battlingcandidates are trying to reach the 54% of Egyptians who didn't vote in the first round.
But those in Tahrir square remain adament about rejecting the results of the runoff.
They want a presidential committee to rule the country instead.
"Both Ahmed Shafik and Morsi refused Tahrir demands, it is not something acceptable. It is time for peopleto evolve and respect the results of democracy. The political secene in Egyptis confusing, every day there are battles of power. Now the disqualifiedcandidates are trying to unify, they should have done that in the first phase.If shafik wins, he is coming through a legitimate process the people must respect the majority." Dr. Yousry Al Azabawy said.
Despite widespread opposition to the runoff as it stands, the supreme council of the armed force confirmed it will be held on time.
Related stories
Editor:Zheng Limin |Source: CNTV.CN