Watch Video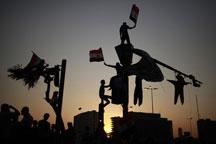 Play Video
In Egypt, three of the losing candidates in the first round of the country's historic presidential elections have announced they will form a presidential council to lead the country.
The unsuccessful candidates are calling for the suspension of the upcoming presidential run-off, citing widespread electoral violations in the first round. Meanwhile, thousands have gathered in Tahrir Square, demanding that the ousted leader, Hosni Mubarak, and his sons be sentenced to death. The calls follow a decision by the Egyptian courts to sentence the former leader to life imprisonment.
A million-man rally has been called for by various political forces to take place in Tahrir Square tomorrow, demanding the re-trial of Mubarak and other key figures. They are also calling for former Prime Minister Ahmed Shafiq to be banned from the upcoming presidential run-off.
Protesters wave Egypt's flags during a demonstration at Tahrir square in Cairo,
against the verdict for deposed leader Hosni Mubarak June 4, 2012.
Related stories
Editor:Bai Yang |Source: CNTV.CN