Under the framework of the Shanghai Cooperation Organization, China and Russia have held three joint military exercises to date, Peace Mission 2005, 2007 and 2009.
Peace Mission 2005 was the first joint military exercise between China and Russia. It lasted from August 19 to 25 and was held in Shandong Province. Approximately 8- thousand Chinese troops, along with 2-thousand Russian soldiers took part in the mission. The exercises consisted of combined land, sea and air forces, simulating an intervention in a state besieged by terrorists or political turmoil.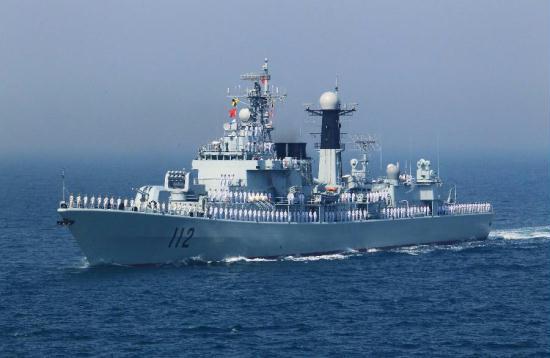 Chinese navy's missile destroyer Harbin attends the fleet review of the Russia-China joint
naval exercise in the Yellow Sea of the Pacific Ocean, April 26, 2012. Chinese and Russian
warships concluded a live ammunition exercise on Thursday, following a no-weapon joint war
game earlier the same day. (Xinhua/Zha Chunming)
Peace Mission 2007 was another large-scale counter-terrorism exercise held in Russia. From August 9 to 17, the mission involved more than 3-thousand personnel from almost all members of the Shanghai Cooperation Organization. The drill aimed to test the ability to project military power at long-distances, and to provide support for rapidly building up combat forces in dealing with potential crises in neighboring regions.
Peace Mission 2009, a five-day joint military exercise, started on July 22 in northeast China's Shenyang Military Area Command. The mission was intended to verify operation plans and capabilities to respond to unexpected threats. The exercise was not aimed at third countries and was mainly intended to enhance the capability of the two countries facing new challenges and threats in anti-terrorism operations.
An additional two Sino-Russian military exercises will be launched this year. One will be a joint naval exercise in the Yellow Sea from April 22 to 29. The drill aims to boost the capabilities of the two navies to handle new threats in the region. Another drill, code named "Peace Mission 2012", will be held this June in Tajikistan.
Click here to see more photos>>
Russian Pacific Fleet's flagship Varyag, a Slava-class guided missile cruiser,
arrives at a naval base in Qingdao, east China's Shandong Province, April 21, 2012.
A China-Russia joint maritime drill is scheduled to take place from April 22 to 27
on the Yellow Sea. A welcome ceremony was held by China's Beihai Fleet at the naval
base on Saturday. (Xinhua/Zha Chunming)
Editor:Bai Yang |Source: CNTV.CN