Watch Video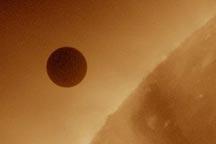 Play Video
People around the world have been looking skyward to witness the passage of Venus across the sun. It's a spectacle that will not be repeated for more than a hundred years.
The rare passage lasted for six and a half hours, but only a few were lucky enough to see it. Observers in north and Central America witnessed the event start just before local sunset.
Simen Beins, tourist, New York, said, "Actually didn't know you were going to be able to look at it through just the little filter or even see it without a telescope, so it's pretty amazing."
"You could just see a faint orange dot and then there was a little black dot on it. You could only just half see it but yeah."
Planet Venus put on a impressive show for sky watchers by moving across the face of the Sun as viewed from the Earth. Stargazers were warned to watch it only with a properly filtered telescope or cardboard eclipse glasses, or risk permanent eye damage. Cloud conditions in many places didn't dampen people's excitement.
Chan Ki-huang, curator of Hong Kong Space Museum, said, "When Venus come between the Earth and the Sun, and then from the point of view from the Earth, you will see that the Venus crossing the solar disc very slowly. That event we call the transit of Venus. And this event is very rare, we have this event in 2004, and then now, eight years after, we have this one in this year now but if you miss this one, you will wait one hundred and five year until 2117 to see another one."
The phenomenon also has particular historical significance. It presents a great chance to make measurements of distances and angles, which enable the calculation of crucial data like the distance between Earth and the Sun. The whole passage could be seen in Hawaii, Alaska, eastern Australia and eastern Asia.
Slideshow: Rare Venus transit draws astronomers worldwide >>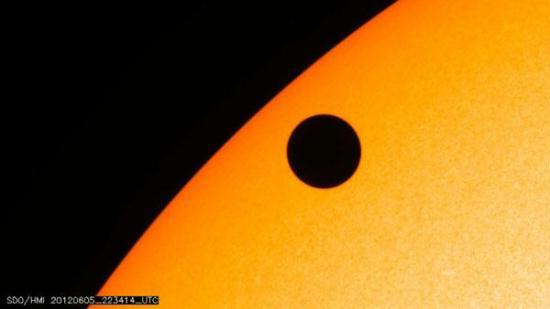 Handout image courtesy of NASA shows the planet Venus at the start of its transit of the
Sun, June 5, 2012. One of the rarest astronomical events occurs on Tuesday and Wednesday
when Venus passes directly between the sun and Earth, a transit that won't occur again
until 2117. [Photo/Agencies]
Editor:Wang Chuhan |Source: CNTV.CN