Watch Video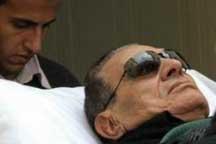 Play Video
Ousted President Hosni Mubarak is in a stable condition, according to a prison official. It had been widely reported a day before that the jailed 84-year-old's health had drastically deteriorated. And as CCTV's Sherif el Touny reports, critics now say Mubarak's illness is being exaggerated to win public sympathy for him to be moved out of jail to a medical facility.
This wall keeps behind it Egypt's former president Hosni Mubarak who was ousted from power after 30-years of rule.
The 84 year old Mubarak was jailed in Torah prison hospital ever since a court decision gave him a life time sentence for not halting the killing of peaceful protesters.
According to the state news agency, MENA, Mubarak's health is stable but critical.
Reports and news were quite contradicting day after day
Ahmed Hassan Sharkawy, Deputy Editor in Chief of Middle East News Agency, said, "...He was walking out in the hospital, the prison hospital in Torah."
Rumors and speculations continue to circulate across the country since he was jailed on the 2nd of June.
This newspaper reads "Mubarak's heart stopped two times and his wife visits his burial ground".
Another says "Mubarak tells his son Gamal the military wants to kill me".
Egyptians are following the news on daily basis some are sympathizing others are not.
Related stories
Editor:Zheng Limin |Source: CNTV.CN