Watch Video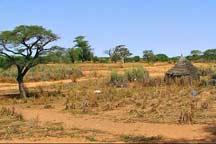 Play Video
Results from a second round of rocky desertification monitoring by China have just come out.
The report shows that desertification covers around 12 million hectares around the country. It's nearly one million fewer than that of 2005.
Referred to as a cancer of the earth, when rocky desertification strikes, it leaves behind only barren and infertile land.
From early 2011 to mid-May 2012, the State Forestry Administration carried out a second round of RD monitoring at the Karst distributed areas of the country. The results brought good news.
China Forestry Administration Zhang Yongli says, "The result of this monitoring shows that the expansion of rocky desertification has been contained. The environment at the Karst distributed areas has improved gradually."
The causes of rocky desertification are various. For one, an overwhelming demand for timber results in massive deforestation.
Also, grazing sheep remove grass at its root, which leaves behind uncovered land.
To make things worse, farmers often abandon thin farmlands to explore seemingly promising forests - accelerating the process of desertification.
After years of fighting stony desertification, land conditions have greatly improved. Local governments, meanwhile are encouraging farmers to grow cash crops that increase income but at the same time help preserve the earth.
Zhang also says, "Grass planting, reforestation, and botany protection contributes to over 70% of the reversion of rocky desert."
A new breed of goat was also imported from Australia to the some of the south provinces. They feed on the grass but leave the roots untouched.
The lack of water and barren soil means life is hard for locals. The good news is that the campaign to control desertification will be extended to 200 counties by the end of 2015. Hopefully more effective and widespread measures will help curb the worrying trend.
Related stories
Editor:Zhang Jianfeng |Source: CNTV.CN