Watch Video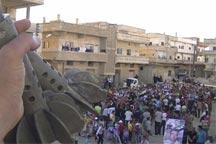 Play Video
With the situation deteriorating in Syria, speculation on military intervention has caused a lot of controversy. Many divergent views on the issue of military intervention can be seen in the remarks of various parties.
French Foreign Minister, Laurent Fabius says he will call on the UN Security Council to make Kofi Annan's peace plan for Syria mandatory. France will propose that Mr. Annan's six-point plan be enforced under the UN's Chapter Seven provision, including setting up a no-fly zone. He adds that France will come up with measures to strengthen the sanctions on Syria at the EU foreign ministers meeting. Many in the media have said this is the strongest attitude on the Syrian crisis.
However, Fabius's proposals did not get support from Western allies. NATO chief, Anders Fogh Rasmussen, said Wednesday that foreign military intervention was "not the right path" in Syria. And, there were "no plans at this stage" for a NATO operation.
Meanwhile, US Secretary of State, Hillary Clinton, said on Tuesday that Annan's peace plan was "a good plan", but it should obtain identifiable progress by the middle of July.
British Foreign Secretary William Hague said on Tuesday that Britain is not seeking foreign military intervention in Syria, but is focused on finding a peaceful resolution to the current unrest.
Russian Foreign Minister Sergei Lavrov said on Wednesday that it was a provocation that some western countries wanted Russia to pressure Syria to end the violence. He added it was dangerous for Arab countries to carry out the so called "Libya mode".
Russia and China have been advocating a more balanced way to deal with Syrian crisis, urging all parties concerned to stop the violence, so as to pave the way for negotiations to resolve the dispute.
Editor:Wang Chuhan |Source: CNTV.CN