Watch Video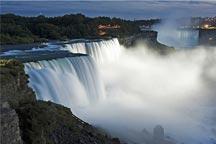 Play Video
Each year, as many as eight million people visit Niagara Falls on the US-Canadian border. This week it seems as though they are all there at once, a huge crowd is gathering to watch a top acrobat try to negotiate a high wire spanning the falls.
Friday night, Wallenda will try to cross a high wire stretched along an unforgiving stretch of Niagara Falls.
Nick Catalina, tourist, said, "It does look insane, and I have to give the man credit. It takes incredible amount of courage, dedication and commitment to do what he's doing."
Others have walked a wire spanning the waterway. But no one's tried it in nearly 100 years. And, Wallenda is the first to try it over the Horseshoe Falls section. It's only fitting considering he is a 7th generation acrobat from the legendary 'Flying Wallenda's" family
Over the years a staggering number of people have walked across the falls on a high wire, and yes it was a media circus even back in the day. At one point more than 100,000 people gathered to watch one of the performances. We want to give you a close up look at the power of the falls, and the best way to do that is a ride on the legendary maid of the mist --this is our protective outfit.
The closer you get to the falls -- the crazier --and more frightening the whole event seems.
So far, it's estimated the cost of the event is more than 1.2-million dollars...and Wallenda is bearing the brunt of the expense. Much of the cost is to build, anchor the custom made steel wire.
Wallenda also had to set aside money in the event of a water rescue -- But the U-S television network carrying the spectacle live is forcing Wallenda to wear a safety harness -- something he has never done -- and doesn't want to do now.
There is only room for about four thousand people on the U-S side of the falls to watch the walk.
But in Canada --they are bracing for a whopping 120-thousand... all hoping to see a heart-stopping stunt worthy of the rich tradition of this natural wonder.
Editor:Wang Chuhan |Source: CNTV.CN