Watch Video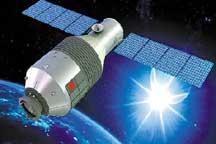 Play Video
China's space lab -Tiangong-1 has entered its rendezvous and docking orbit after a 259-day fight.
Prior to this, Tiangong-1 module's orbit was adjusted to a perfect circle. How long it can continue in orbit now depends on its fuel supply.
So, it is crucial to control its flight path to meet the rendezvous and docking requirements.
Li Jian, Assist. Chief Engineer, Beijing Aerospace Control Center, said, "We need to make sure the module is flying at the right height and on the correct path to meet Shenzhou-9 when it arrives in the same orbit. We have made two adjustments to make sure everything is in the right place."
Related stories
Editor:Zhang Pengfei |Source: CNTV.CN