Watch Video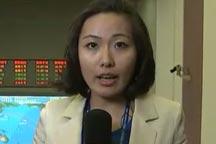 Play Video
Shenzhou-9's rendezvous and docking with Tiangong-1 is a key step forward for China to assemble a manned space station in orbit by 2020. It's the first time Chinese astronauts will manually control the entire process. Full story>>
For the latest, let's cross live to our reporter, Ai Yang, at the Beijing Aerospace Command and Control Center.
Q1: Aiyang, you told us that the Shenzhou-9 was at a distance of 5 kilometers, so how far it is now? And what's the latest?
Q2: What are the differences between automated docking and manual docking?
Related stories
Editor:Wang Chuhan |Source: CNTV.CN