Watch Video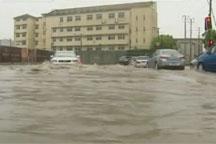 Play Video
Southern China is continuing to see prolonged periods of heavy rain. Tropical storms are affecting many provinces, including Hainan, Fujian, and Guangdong. Meanwhile, in the north of the country, temperatures are continuing to soar, as the summer heats up.
China's south the affected area may be reducing, but the rainfall remains intense.
In the island province of Hainan, many flights have been delayed by the bad weather.
Schools were flooded out across many parts of Zhejiang province. In some areas, the water reached depths of over 30 centimeters - meaning many classes had to be cancelled.
Even Shanghai didn't escape, getting its first heavy rain of the season. There's been no let up in the downpours since Sunday afternoon. Surface water on roads in downtown Shanghai have made driving conditions treacherous.
Driver, Shanghai: "Is it a road, or a sea? I can't recognize anymore! "
As the rain continues to lash the south, Northern regions have been hit by a wave of summer heat. China's central meteorological bureau released a high temperature warning on Sunday, forecasting extremely high temperatures over the coming three days.
The mercury will hit above 35 degrees celsius in many provinces, with some places reaching 40, as the sweltering heat continues.
Editor:Wang Shuo |Source: CNTV.CN