Watch Video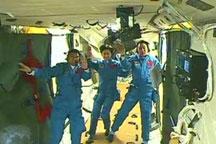 Play Video
The successful docking of the Shenzhou 9 spacecraft and the Tiangong-1 orbital lab signifies the start of a new chapter for the three Chinese astronauts on board. They'll work and live in the space module for the majority of their remaining 2-week journey in space.
Blasting off in a rather limited space in the Shenzhou 9, it took the three Chinese astronauts almost 2 days of orbital maneuvering and a good half hour's walking & crawling to finally reach the more roomy Tiangong-1.
Deng Yibing, Chief Engineer, China Astronaut Research & Training Center, said, "It was the busiest day for the astronauts since the blast-off. They didn't even have time to eat lunch. They had to monitor the automatic docking and prepare for the future manual docking. They also took some samples of the air in the laboratory. The temperature, humidity, and the level of carbon dioxide and oxygen partial pressure are all fantastic."
Despite being 350 kilometers above the surface of the earth, the astronauts are now working and living by the familiar Beijing Time. On their first night aboard Tiangong-1, Commander Jing Haipeng stood watch and crew member Liu Wang and Liu Yang rested.
But even in their sleep, there were sending valuable data to scientists back home.
Li Yinghui, Deputy Chief Designer, China Manned Space Engineering Project, said, "We are taking special notice of our astronauts' sleep. We want to know whether they have slept well and whether they were disturbed in their sleep. They are also wearing specially designed watches that can record data on their physiological changes during their sleep. They will also answer questionnaires so we can get both subjective and objective data."
Li says any biological medical data from the astronauts will be of great value for future research efforts so they will leave no stones unturned in monitoring them.
While scientists on the ground are busy watching out for the health of the astronauts, the astronauts are conducting medical experiments of their own in space. Subjects of research include in-orbit biological monitoring, the physiological effects mechanism of weightlessness and bone loss in space.
Click here to see more photos>>
Related stories
Editor:Bai Yang |Source: CNTV.CN