Watch Video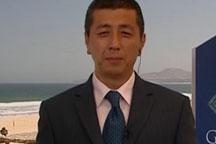 Play Video
UN Secretary-General Ban Ki-moon attended the G20 summit in Mexico and met with Indonesian President Susilo Bambang Yudhoyono on the sidelines of the summit of the group of world's 20 largest economies, UN spokesman Martin Nesirky told reporters here Tuesday. Full Story>>
For more on the G20 summit, we are now joined by our correspondent Xu Zhaoqun, who is standing by in Los Cabos, Mexico.
Q1: Can you tell us more about the latest on the G20 summit?
Q2: President Hu Jintao has delivered a speech; can you tell us some more of the highlights?
Q3: China will contribute 43 billion US dollars to the IMF's crisis-fighting reserves. How have world leaders and other international bodies reacted to this?
Related stories
L>
Editor:Bai Yang |Source: CNTV.CN