Watch Video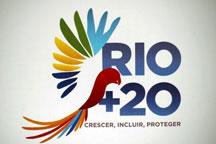 Play Video
As Mexico takes a breather from the G20 excitement, another global summit is getting underway in Brazil. The United Nations Conference on Sustainable Development, better known as Rio +20, taking place in Rio de Janeiro from June 20th to 22nd. More than 115 heads of state and other officials are attending the conference, drawing at least 50 thousand people from 190 countries.
The conference's aim is to craft a plan to help lift billions of people out of poverty without exhausting the planet. On the eve of the summit on Tuesday, UN members backed a plan to preserve the Earth's ecosystem and tackle poverty through greener growth.
But some attendees are already managing their expectations. They say this: hopes for substantive change are low because the global economic woes and eurozone debt crisis have put environmental issues on the backburner. Organizers will desperately want to avoid a repeat of the deadlocked 2009 Copenhagen climate summit.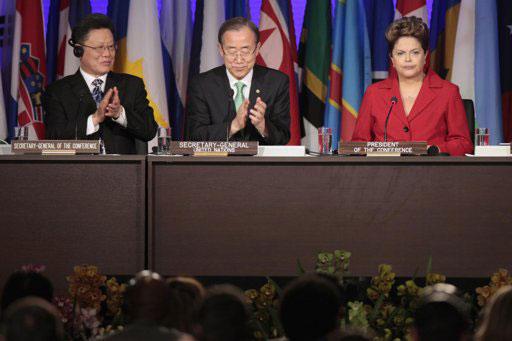 Sha Zukang (L), secretary-general of the Rio+20, and UN Secretary-General Ban
Ki-Moon (C) applaud as Brazil's President Dilma Rousseff attends the opening
of the Rio+20 United Nations sustainable development summit in Rio de
Janeiro June 20, 2012.
Official logo for Rio +20 in Rio de Janeiro. Palestinians are pushing for
full representation as a state at the UN Rio+20 summit on sustainable
development, but the issue will have to be decided by world leaders
next week, according to officials.
Volunteers wearing masks hold up signs next to a table displaying empty plates and
flags representing the problem of hunger in those countries during a protest
organized by members of non-government organization (NGO) "Rio de Paz" (Peace Rio)
at Copacabana beach ahead of the Rio+20 Conference in Rio de Janeiro
June 19, 2012.
Editor:Bai Yang |Source: CNTV.CN