Watch Video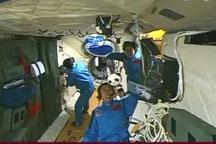 Play Video
The Tiangong-1 space lab and the Shenzhou-9 spaceship have been combined as one, and early Wednesday morning they completed their first repositioning since docking.
Tiangong-1 is now to the rear of the combination, putting it in position for the second docking operation. Technicians say this new position is a key feature that will be tested during the mission.
Yang Yanbo, Chief Coordinator, Beijing Aerospace Command Center, said, "We've tested the docking technology when Tiangong-1 was in the lead and Shenzhen-9 connected from behind. We'll do it the other way around for the second docking."
On Tuesday, the crew received emails from the Command Center, marking a major breakthrough in ground-to-space communication.
Sun Jun, Head of Software Lab, Beijing Aerospace Command Center, said, "If the users on Earth want to send e-mails to the astronauts, they need to apply first. After being approved, they should furnish us with the contents and attachments of their emails and then we can send them to the astronauts through our special email sending system."
The chief commander of the mission says the ground support team has been in contact with the crew. The three astronauts are said to be in good health and also in a good spirits now that they are getting used to life in space. The second docking will be conducted manually by the astronauts and is due to take place on Sunday.
Related stories
Editor:Bai Yang |Source: CNTV.CN