Watch Video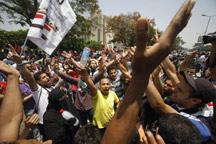 Play Video
Following the announcement of a delay in run-off results, thousands intensified their protest overnight in Tahrir Square. Some protesters say they fear corruption was behind the foot-dragging.
Pretester Sherif Mohamed says, "Delaying the results of the election means that there is an intention to rig it. There is an intention to betray the elected president, who appeared very strong. They want to betray him as they betrayed the parliament elected by 30 million Egyptian people."
Another protester Abdul Wahhab Ibrahim says, "I can't find a justification for this delay because the role of the commission is to announce the results after they check the appeals. The results that the commission have received are clear from both the public and sub-commissions."
The delay hikes tension as allegations of fraud swirled and each candidate declared he was the victor.
The Muslim Brotherhood claims there has been an organised campaign of allegations to keep its candidate out of the presidency. The latest election would mark the choosing of the country's first civilian president in generations.
On Tuesday, a US election monitoring group also said it was unable to say if Egypt's presidential election was free and fair, as it had not been given sufficient access. It accused the military leadership of hampering a transition to democracy.
Related stories
Editor:Zhang Jianfeng |Source: CNTV.CN