Watch Video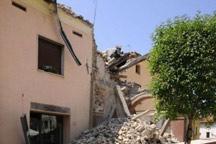 Play Video
Chile has been rocked by more 40 quakes of magnitude 6 or over during the last two years alone. The worst one happened in February 2010, when more than 500 people died. Engineers and inventors are working hard now to come up with new ways to deal with earthquakes.
54 storeys and standing at 194 meters. The country's highest building - the Titanium Tower remained intact after the 2010 quake.
This incredible feat is being credited to the skyscraper's design and innovative "seismic dissipation system".
It is the brain child of Chilean engineer Juan Carlos de la Llera, and his seismic technologies company "SIRVE".
Juan Carlos de la Llera says, "When a building starts to vibrate you take advantage of this vibration to connect two points of the structure, and between them place an element that is capable of absorbing the energy of that movement. It's a kind of buffer that you put in your building, in your system."
De la Llera also developed "Seismic Isolation". It is now being tested by engineers in the US and Peru.
The problem even has the country's youth shaken up. 15 years old Sebastian Alegria is the inventor of an internet alarm system. He got the idea from a similar device during the 2011 Japanese earthquake.
Sebastian Alegria, creator of twitter-based earthquake warning system, says, "When the sensor detects the 'p' waves, the signal travels to this card - a microcontroller - and the job of this micro-controller is then to send the signal to Twitter and the message appears on Twitter instantly, in less than a second."
The advantage of this type of technology in an earthquake-prone country is clear. But smart phones and computers are not luxuries everyone in Chile enjoys.
This is where the Techno Foundation comes into action. It's Innovation Centre in Santiago supports and works on several social initiatives to help quakes victims.
Along with a local inventor, the Foundation has developed a "Plasma Water Sanitation System" to clean contaminated drinking water following an earthquake.
Matias Rojas, coordinator of Techo Foundation Innovation Center, says, "Water contaminated with viruses, bacteria or any living organism passes through the device and transforms itself into plasma in a reaction chamber of just 22 centimetres. After the water passes that through that plasma state, it becomes water again - free of any living organism."
The system was installed in an emergency village housing victims of the earthquake. Rojas says it's been very successful.
The Techno Foundation is looking to expand the system to other areas in the region.
Related stories
Editor:Zhang Jianfeng |Source: CNTV.CN