Watch Video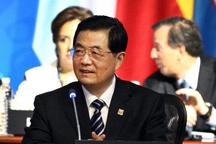 Play Video
After the two-day G20 summit in Los Cabos, Foreign Minister, Yang Jiechi, has summed up the major achievements made during President Hu Jintao's attendance at the summit.
Yang Jiechi says President Hu Jintao's keynote speech stressed that securing growth, increasing jobs and promoting stability should be the top priority of G20 members. In his speech, President Hu said China would continue to support European efforts to resolve its debt crisis and believed in Europe's ability to bring its economies back on track.
Hu Jintao also met with leaders of the BRICS countries on the sidelines of the summit. He's urged leaders of the G20 to give developing nations a bigger say in global economic governance. China agreed to help boost funds for the International Monetary Fund.
In talks with some of the G20 leaders, President Hu exchanged views on international issues of common concern. He says he's confident China can maintain the momentum of economic development and is ready to make a bigger contribution to global economic development.
Editor:Zhang Dan |Source: CNTV.CN