Watch Video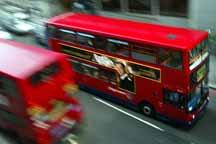 Play Video
Thousands of bus workers in London have been on strike since Friday in a dispute over bonus pay for working during the Olympics. Around two thirds of services have come to a stop as drivers walked off the job. The strike is taking its toll on residents and tourists, raising concern about whether London traffic can withstand the test during the upcoming Games.
The Games are approaching.
But the buses are going no where. Over 23-thousand drivers went on strike to push for a bonus for working during the Olympics.
It is the coldest day in June here.
And some unsuspecting Londoners and tourists are still waiting.
-Bus 38?
-That's not going, I'm afraid.
-Anything like C2?
-C2 is not going either.
An estimated 800,000 passengers are expected to load onto the public transportation system during the games.
Unite Union had written to the Mayor of London on several occasions, demanding a £500 bonus for each driver of the 21 bus firms.
The Mayor announced an offer of £300 instead. But the drivers are in no mood to back down.
Jason, Bus Driver, said, "If there's no resolution, we will be campaigning for more strikes, raising it by 100 pounds each time. So the next strike will be for 600 pounds, not 500 pounds."
Unite's regional secretary in London, Peter Kavanagh, said support for the action was "solid".
Peter Kavanagh, TUC's Negotiation Representative, said, ""It was certainly a magnificent event when the (Olympic) Games were in China, when the Games have been in other countries. We hope it will be successful. But we have got concerns about whether everything is in place, to ensure a smooth and successful Games."
Meanwhile, a 24-hour strike was also launched by the National Hospital Service on the same day. It caused over 30-thousand operations and 20-thousand out patient services being cancelled.
Unite warned that further strike action would snowball if the call of public cannot be properly handled.
Related stories
Editor:Zheng Limin |Source: CNTV.CN