Watch Video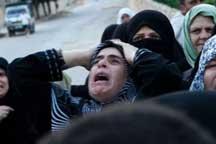 Play Video
In Syria, the bloodshed has reached new heights. According to the Syrian Observatory for Human Rights, violence in the country killed at least 63 people on Sunday.
At least 16 soldiers were killed in northern Aleppo province, while one died in an attack on his vehicle in neighboring Idlib province. The rest died in fighting elsewhere in Idlib and in the provinces of Damascus and Deir Ezzor in the east.
The British-based watchdog added that a number of soldiers have defected after an attack on an artillery battalion in Aleppo province, taking with them a large amount of weapons. Deaths in other provinces have also been reported.
The 16-month-old unrest in Syria has become more militarized as the clashes between the Syrian troops and the armed rebels have hit new highs recently, with reports of arms reaching both sides from outside supporters.
Editor:Wang Chuhan |Source: CNTV.CN